If, you would like to get kahwin di Songkhla especially during the MCO you need to set a date first when you want to get marry.
Firstly Getting married kahwin di songkhla are easy if you follow the rules and regulations and comply with our procedure.
Secondly You must have all the documentation needed for the marriage declaration.
The process of marriage is very fast and it takes only under a few hours to get your marriage complete.
Legal marriages kahwin songkhla are valid in the court of law. This safeguards the future of marriage.
Registered marriages ensure that your marriage is lawful and it can help you in the future if problems arise.
When you are getting kahwin in Songkhla, some of the aspects of marriage that we help you with are:
Fast and easy registration process
However kahwin songkhla Thailand's marriage laws make it easy for you . With  documents, you will be able to register.
Oftenly kahwin songkhla  process is completed easily because we make sure that everything is in place.
Your marriage registration is a crucial step to ensure that the marriage is validated.
Helpful team to guide you step by step
Normally Our team will be guide you step of procedure how kahwin Thailand through the process of completing your marriage registration and solemnizing your marriage.
We will explain the requirements of documents and help you with the law if you will need any clarifications.
This ensures that there is no eleventh-hour panic because of inadequate oo or unclear instructions which can be an impediment for the marriage.
Solemnization of the marriage by the Islamic council
We make sure that an Imam is available to solemnize your marriage .
A member of the Islamic Council kahwin  Songkhla will be overlook the marriage procedure and ensure that you are married according to the rituals of the religion.
This also ensures that your marriage are registered in the Council and is recognized as a valid marriage before the Council.
Solemnization of the marriage before the Islamic Council are important to make sure that the marriage is accepted in the society.
Beautiful locations to get married
If required, we can assist you choose a suitable location for your wedding.
Kahwin Songkhla has been scenic beaches and many beautiful landscapes that you can choose as a backdrop for your marriage.
These locations are ideal for a memorable wedding. Our team can visit you at any location to solemnize the marriage.
If you are planning to get kahwin  Songkhla, then talk to us for guidance and assist in getting your marriage solemnized and registered.
We has been helped thousands of couples complete their registration and get legally married in Thailand.
This marriage are valid even in international countries if you are a foreign national.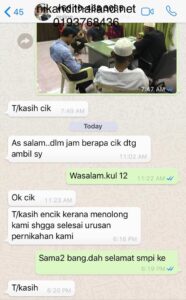 For More detail visit at website : https://nikahdithailand.net/
(Visited 110 times, 1 visits today)