Kahwin Di Songkhla
Are you a Malaysian national want to marry in Thailand? If yes, then you can consider getting Kahwin di Songkhla.
Songkhla is a beautiful city in the southern part of Thailand and located near the Thai-Malay border.
Hence, it is one of the closest cities to your country. Whether you want a destination wedding or simply wish to have a private but legal marriage,
coming  Thailand would be the best escape for you. However, no matter what your reason is to kahwin di songkhla,
you need to ensure that it is legalized here so that you can legalize it in your country too.
How to Get Legally Kahwin di Songkhla? As a Malaysian citizen, if you are coming to Songkhla for wedding,
then you need to bring some documents with you and follow a certain procedure. Nikah Di Thailand In the era of destination weddings,
do you dream of getting married in a foreign country? If yes, then one of the most beautiful and welcoming countries you can choose is Thailand.
Having plenty of beaches and islands, you can have your wedding by the coast with the blue sea in the background.
Sounds like a romantic dream, isn't it? Well, it is extremely easy to make this dream come true.
Not only will you easily be allowed by the country to get married, but also manage your expenses reasonably.
Whether you're a foreigner living in Thailand or willing to only marry in Thailand, "kahwin Di songkhla", both can be done easily. The legal formalities are very less and easy to comply with and managing the rest is also very simple.
You'll be needing your ID card and passport, both during the immigration and the marriage ceremony. 
If one of you isn't a Muslim but is going for an Islamic wedding, a Maulaf is needed, which is a declaration letter of converting to Islam. 
If one of you were married before, either of the two is mandatory – original divorce papers or original death certificate
of the late partner (whichever is applicable to you). Now, once you have immigrated, you need to carry these documents
to the Islamic religious council in Songkhla. Once you're married there, you visit the Malaysian consulate there to receive your marriage certificate, which will be in Thai.  You'll be receiving your confirmation letter within 2 days from the consulate but this only can be done after the MCO. 
After that, you head back to Malaysia and present it to the Syariah court.  If you have one wife, you visit the subordinate court, else you go to the High court.  Once you receive your certificate from the court in Malaysia as well, you are now officially and legally married kahwin di songkhla
Hence, while you still have two days (minimum) in hand, you can roam around the city to some of the most popular tourist destinations in the city. These include the Golden Mermaid,  Tang Kuan Hill, Thale Noi Waterbird Park, Hua Nai Raeng Boulder, Khao Kao Seng, and the Dragon Head Statue. Songkhla is a popular destination kahwin di songkhla for Malay-Muslim weddings and temporarily during a MCO we do at Narathiwat.Kindly contact nikahdithailand.net for further info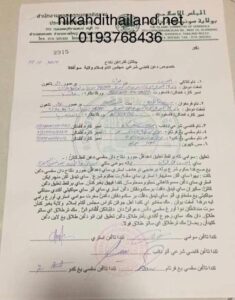 (Visited 190 times, 1 visits today)